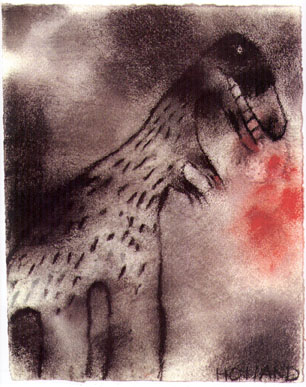 Brad Holland © 1996
Why artists behave like crocodiles.
Craftsmanship: In traditional art, craftsmen worked within certain conventions. Occasionally those conventions would be redefined by acts of genius. In modern art, everybody has to redefine art all the time. This might have made our era another Renaissance, if suddenly there had been an explosion of geniuses in the world. But since ego is more common that genius, Postmodern art is destined to be narcissistic.
Art Theory:
The typical Modern artist produces a small body of work wrapped in theory. Some even dispense with the work itself and exhibit only their theories, typed up on paper. To me, this seems a sensible economy of style. If the purpose of art is to redefine art, then words should do the trick. There's no use cluttering up the world with redundant examples.
Self-Expression:
The crowbar used by artists to pry open the Pandora's Box of self-indulgence for everybody else in society. Fifty years ago, it was the dream of every bohemian artist to be seen getting out of a limousine wearing blue jeans and sneakers. Today, it's the dream of probably half the people in the country.