Becoming Artists the Old-Fashioned Way
From: The New York Times
Published: April 16, 1994
(There was no byline)
"Life drawing, once the art student's entrance ticket to the mythical world of canvas and paint, of chisel and stone, of masterpieces scribbled feverishly on napkins, of berets, garrets, mistresses, poverty, drugs, wine, death and, ultimately, fame, is now an entrance to -- well, no one seems to be sure anymore, but probably something bleak, like painting portraits of corporate executives for a living. Certainly it is no longer an entrance to anything very fashionable, or, in the opinion of many, artistically credible.
At the Project of Living Artists, a basement drawing studio on Greene Street in SoHo, the study of life drawing, fashionable or not, continues. Several nights a week, as many as 30 artists, ranging widely in age, gather to draw from the figure. For the visitor, what is striking is the concentration in the room, to which the model, diligent but somewhat bored, provides a quiet counterpoint.
The project, which is also Joe Catuccio's residence, looks like a junkyard and feels like home: the models are well treated, the artists feel comfortable and Mr. Catuccio's two cats search the floor leisurely for tidbits. A greater contrast to the pristine austerity of the typical SoHo gallery would be hard to imagine. And in fact, there is virtually no connection between the two. Life drawing, if not actually in the hell to which successive generations of abstract and conceptual artists have consigned it, is at best in limbo, filled with self-doubt and facing challenges and questions on all sides.
Making Souls Visible
Despite the critical success of the recent Lucian Freud exhibition at the Metropolitan Museum of Art and the current show of modern drawings at the Museum of Modern Art, this situation seems unlikely to change.
In the United States, life drawing in art schools started to decline rapidly after World War II. Abstract expressionists like Willem de Kooning and Jackson Pollock were trained with the figure: Pollock studied life drawing with Thomas Hart Benton, and Mr. de Kooning underwent rigorous academic training in the Netherlands. But when the generation they shaped entered the art schools as teachers, figuration was largely banished.
The figurative painter Philip Pearlstein, speaking recently in his Manhattan studio, recounted being sternly warned by Ad Reinhardt when they were both teachers at Brooklyn College that he would "be responsible for the souls" of all the people he painted. "He meant it," Mr. Pearlstein said with a smile. "He wasn't joking."
Asked if he thought life drawing should be emphasized in art schools now, Mr. Pearlstein said: "Only if people want it. You invite all sorts of prejudices against yourself as an artist if you do it, which makes it challenging. You want to get away with it." One Who Dares
Eric Fischl, one of the few younger figurative artists to have gotten away with it, made his name in the 1980's with raw, sexually charged images of suburban life in which the body, oozing suntan oil and neurosis, forcefully reclaimed center stage. Nonetheless, despite the prominence of the figure in his work, Mr. Fischl readily admits that drawing feels very much like an acquired skill, one he had to teach himself after leaving art school, where drawing wasn't taught.
To some, Mr. Fischl's lack of training as a draftsman is a serious flaw; others argue that his paintings gain in power precisely because of the slapdash quality of his draftsmanship. His critics would argue that to paint in a consciously careless manner, an artist needs to know how to render a figure skillfully in the first place. Others seem to believe that in a modern context, average drawing skills are enough; what matters is the overall composition. Both sides, in different ways, evince a horror of academicism, the "beautifully" drawn or painted figure, in much the same way rock musicians disdain perfect pitch. In the modern world, graininess and rough edges convey authenticity.
So where does this leave life drawing? While it might seem ludicrous for the beginner to draw expressively before knowing how to get proportions right, most schools now emphasize personal expression over systematic training. But how far should an aspiring artist go along the path of drawing well, of attaining technical mastery? In the Renaissance, the answer was simple: to the end of the path, where popes and patrons waited with handsome commissions. In 1994, even among the minority who agree on the existence of a problematic pathlike entity, just how far one should go on it is a matter of dispute. Two Extremes of Instruction
Camped furthest up the path is the Graduate School of Figurative Art of the New York Academy of Art, founded on the assumption that the artistic instruction of the Renaissance and the French Academy is still valid. (Andy Warhol was one of its supporters.) At the academy, the intent is clearly that students should learn to draw well. They undergo four semesters of figure drawing, as well as cast drawing and detailed instruction in anatomy and perspective. James Lecky, the chairman of the school's master of fine arts program, said the aim was for students eventually to be able to draw figures without reference to photographs or models.
Learning to do so takes time, and that, said Mr. Fischl (who has taught at the academy), is another part of the problem. "When I taught at the Nova Scotia College of Art, there were students who were included in video shows at the Museum of Modern Art," he said. "Because the medium took care of itself, they were free to ideate the way an adult could. They couldn't draw at all. That was absolutely not part of their education. The thinking was that basic skills, the fundamentals of painting and drawing, not only set you back in time and were ultimately unnecessary, but that they had a prejudice built into them that would undermine the conceptual stuff that was going on."
While a student can begin producing conceptual work almost immediately, one learning to draw and paint must be resigned to some sort of apprenticeship. This is not an easy attitude to maintain today. Not only does the notion of studying to become an artist, as opposed to simply being one and acting accordingly, raise eyebrows, but there is also the small matter that this arduous apprenticeship is taking place in an art form that, in the view of most of your peers, is already dead. Actually, figuration has never been more alive, but the means for producing it are overwhelmingly mechanical. Why draw something when you can photograph it in a fraction of the time?
Luke Butler, a recent graduate of Cooper Union School of Art and Design, said his ability to draw was his most precious skill as an artist. But he said the two or three months he had spent learning to draw in high school had been adequate. When he showed teachers his drawings, he said, their reaction was that of the average person on the street: "Oh, you can draw!"
Prof. Paul Gianfagna, who teaches anatomy in the art department of Brooklyn College, said he regretted the current academic trend "not to instruct." He said students "tend not to be comfortable with drawing" and were left "to search vaguely for a personal style rather than using a figure-drawing class as one of several resources for developing a visual vocabulary." He added: "Instruction, the study of conventions, developing a visual vocabulary, is going to carry a student much further than a superficial discussion of style and personal exploration."
In the meantime, work at the PROJECT OF LIVING ARTISTS goes on as it has for 25 years. The artists stare at the model; the model stares back. She earns and poses; they pay and draw. It is a nice arrangement. In an era of channel-surfing, it is rare to see people paying this much attention to another human being. Life drawing may be in decline, but it is doubtful that anything will ever kill it.
But will anything fully revive it? A life-drawing session now looks much like one 20 years ago, as do the drawings. And that is part of the problem. In a period when the question of art's role and meaning has become so central, life drawing and figuration in general seem to give an unfashionably straightforward answer: "Art is what it always was. Now make it new."
As the Freud show at the Met attested, there will always be those for whom, in W. H. Auden's words, "Art's subject is the human clay, and landscape but a background to a torso."
---

SPRING STUDIO
91 Canal Street at Eldridge St, NYC

917-375-6086

Project of Living Artists
formerly at:
at 32-33 Greene St, NYC

Figurative Mural by Joseph Catuccio

The Foot, Drawing by Joe Catuccio

Joseph Catuccio Standing in Front of His Mural Painting Which He Worked on During the 1970s.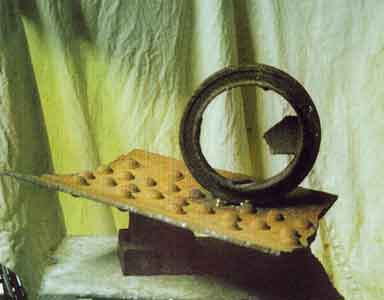 Sculpture by Joe Catuccio

Joe Catuccio

Joe Catuccio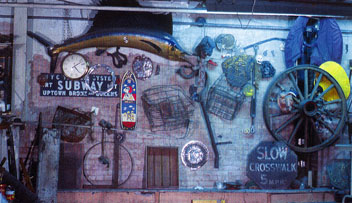 The Project of Living Artists
Greene Street Studio, NYC
Click Here to View More of
Joe's Paintings and Sculptures
at NYAW.com