There are other anomalous conditions and phenomena, beyond reach, or perhaps beyond human intervention. Clouds appear in Watts' movie fragments, often on a split screen moving up on one side and down on the other, creating shapes that then disappear. The wind blows clouds, flowers, water, and grass. A naked woman moves under a sheet of plastic, as though that might give her a more definitive sense of reality. It is impossible to know the wholeness of these things. The Portrait Dress of vinyl, cellophane, thread, and polyester has sewn into it black and white photos of teeth, hands, nipples, eyelashes, etc., parts that incompletely reconstitute the female body in a garment that then covers much of the body of a real woman. Three Clouds correlates clouds, human skin, and white plexiglass by constituting them as cubes mounted on plastic laminate pedestals. Clouds are far away and unpredictable; now they are not. Women are out of reach; now one can focus on some Psalter characteristics. A piece not in this show calls upon the clouds and their movements to make music. The music is there. It just needs to be realized. A piece that is in this show, Girl with a Mole That Lights Up, wanly focuses attention away from the larger field of sexuality.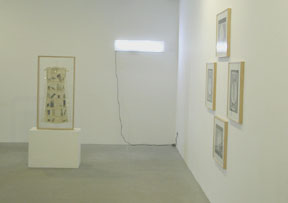 © Robert Watts 2001
Portrait Dress, 1965
Vinyl, cellophane, photographic film, thread, polyester
37 1/2" x 21" x 1"