Alfred Jensen did a lot of painting between the 1920s and the 1950s, but I haven't seen any of it and I'm not sure it has been shown. As a very young man working on a chicken farm in California, he did a mural of chickens and was delighted with the differences among them. He studied art in San Diego (1924-25), Munich (1926-27, with Hans Hofmann), and Paris (1929). He copied old masters. He traveled for many years in Europe and North Africa with Sadie May, a wealthy fellow student from his Munich days, helping her form an art collection and visiting the studios of Picasso, Giacometti, Dubuffet, and others. He was 48 when he settled in New York City in 1951 and there became friends with several mostly younger contemporaries, including Mark Rothko, Franz Kline, and Alfred Leslie. It is from this period, when he relentlessly delved into one cosmic system after another, that we know his work. The exhibition at DIA begins in 1960, with A Quadrilateral Oriented Vision, Per I-Per VI.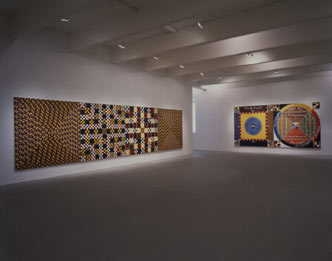 Installation View with
The Sun Rises Twice, per I - per IV, 1973 (on right side)
Oil on canvas, 96" x 192".
Collection of the Hirshhorn Museum and Sculpture Garden, Smithsonian Institution, Washington, D.C. Joseph H. Hirshhorn Purchase Fund, 1990.
Installation view, Alfred Jensen: "Concordance" Dia Center for the Arts, 548 West 22nd Street, New York City September 2001-June 2002 Photo: Bill Jacobson Courtesy Dia Center for the Arts