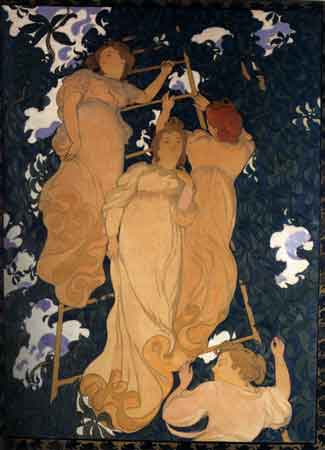 Maurice Denis (1870-1943).
Ladder in Foliage, or Poetic Arabesques for the Decoration of a Ceiling,1892. Oil on canvas, mounted on cardboard, 92 1/2" x 67 3/4". Musée Départemental Maurice Denis "Le Prieuré," St.-Germain-en-Laye.
Most of the paintings in this exhibition are landscapes with figures, some interiors also, but mostly landscapes associated with country homes, city parks, people at leisure, children, and scenes from Classical and Christian mythology. They go back, I suppose, to the figure landscapes of Nicolas Poussin, the great founder of the French classical tradition, but even further back than that, specifically at times, to Medieval tapestries. They were made or commissioned for specific places in specific houses, apartments, or public buildings, for overdoors, wall panels, ceilings, and screens.
Their creators meant them to be intrinsic to the décor of the space, to be decorative in the most complete French sense of the word, to revive for well-off patrons the aristocratic tradition of total décor that had existed in the 18th century. One was meant to live in the decorated space as a total environment, transported beyond the mundane world.