Alice Grisant
An Exhibition of New Works - Journey Within
Brazilian-born artist Alice Grisant exhibited 24 paintings, mostly watercolors, in Gallery I at Nexus Gallery. The exhibition, Journey Within, was on view from March 27 through April 21, with the opening reception on Thursday, March 29 from 6 to 8 pm.
Alice Grisant was born in Sao Paulo, Brazil, but has lived in New York City for the last 28 years. She was influenced by her extensive travels to Brazil, Europe, Mexico, the Caribbean and the United States and her many visits to museums and galleries in those countries. She worked in publishing for many years, but always related to creativity and the arts. Ms. Grisant studied music and acting at an early age and worked in theater and TV in Brazil.
Ms. Grisant is self-taught in drawing and painting and works in an expressionistic style with multi-media on paper. This exhibition is a strong illustration of her statement, "My works are a portrait of a spiritual and emotional journey, representing closures, and new openings in my life."
Ms. Grisant is available for panel discussions and interviews.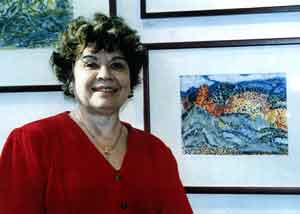 Photo of Alice Grisant
---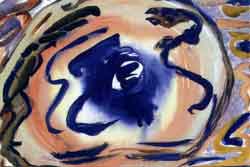 Journey Within Spiral by A. Grisant
---

Journey Within Sea by A. Grisant