---
"Yip-Yip Yippie!," Abbie said, and he and the others, using Yip as their mantra, came up with the Youth International Party.
---
The Yippie Museum Cafe and Gift Shop

9 Bleecker Street
Greenwich Village, NYC
---
Abbie Hoffman used to say, "A Yippie is a hippie who's been beaten up by the cops." The Youth International Party began at a fueled New Years Eve party at Abbie's place in the East Village. They tossed money at the Stock Exchange, tried to levitate the Pentagon and held a Festival of Life in Chicago to protest a political convention in 1968. The ensuing police riot and conspiracy trial catapulted Abbie Hoffman and Jerry Rubin into the daily headline for years.
The Yippies persisted through the 1970s and 80s though Abbie and Jerry followed other pursuits. (Abbie went underground; Jerry went Wall Street). They protested at political conventions, marched against Reagan's secret wars, and ran Rock against Racism concerts. The Supreme Court flag-burning case began at a Yippie organized march. A hard-core of Yippie activists continue to this day, working on law reform and protesting the wars of the 21st Century.
The Yippie Museum and Cafe opened in January 2007, with revolutionary poet and counterculture icon John Sinclair and friends playing music and reading their work. Dedicated to the history of the Yippies - the Youth International Party - and the political counterculture, the museum and cafe is open to the public and hosts book parties, poetry readings, film festivals, and video screenings and has live music - jazz, folk, blues - on weekends (available for private parties).
The Yippie Museum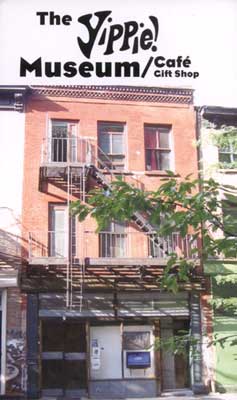 Dedicated to the History of the Youth International Party
---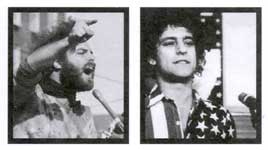 Jerry Rubin and Abbie Hoffman