Ronald DeNota Artist

New York Street Art

City Streets and Bridges

Ronnie DeNota passed away January 4, 2007

Photo of the Artist © Ronald De Nota
---
New York Art World ® - Artists - Next Artist - Back - Next Ron DeNota
---
A Neo-Impressionist - Painting the City as Part of Organic Nature
Bronx-born Ronnie DeNota grew up in the Catskill mountains, Town of Swan Lake. He has for years forged a neo-impressionist style based on working directly from nature. He was painting the City as part of organic nature.

Brooklyn Bridge © Ronald De Nota 2005
Oil on Canvas
22" x 28"
$1,100
---
DeNota has devoted his energy to the expression of his feelings. By using nature as a vehicle for art he is able to hone his expressions in an experimentally spontaneous way. The overall effect is one of joyous celebration.
---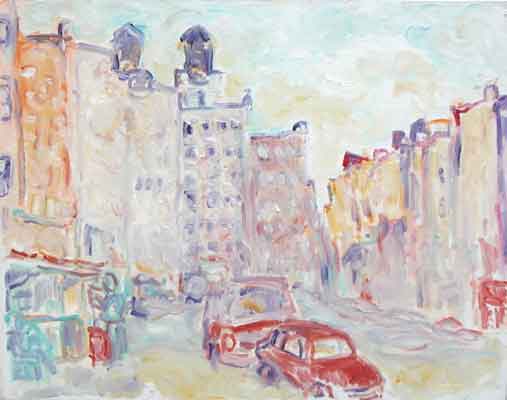 © Ronald De Nota 2005
Centre Street, Downtown Manhattan Brooklyn Bridge
Oil on Canvas- 22" x 28"
$1,100
---
Ronald DeNota, painter of the New York scene, and a member of the Street Painters Group since 1978 will be very much missed. He passed away on Thursday, January 4, 2007 at 8:50pm. He passed peacefully in his studio home, in Greenwich Village, with Lucy and friends, and amongst his many beautiful paintings.
He was very much loved by all who knew him. Born July 17, 1928 in the Bronx, he lived to 78 and he was the most exceptional of painters.
---
Ronald De Nota © 2018 All Rights Reserved

Click on ORDER FORM for Inquiries - PAYMENT OPTIONS for Art Purchase.

NYAW.com All artwork is copyright of the respective owner or artist. All other material © 2018 New York Art World®. All Rights Reserved.

New York Art World ® - Back To Top - Art Themes - Artist Listings - Next Artist - Back - Next Ron DeNota
---