George A. Rada

New York Art . . . Waterways and Bridges

© George A. Rada
---
New York Art World ® - Artists - Themes - Next Artist - Back - Next George Rada
---
Red Hook


© George A. Rada
View from Red Hook
Oil on Canvas
20" x 24"
$4,000

The Waterways by Brooklyn and Long Island

Mr. Rada spent a good deal of time in Brooklyn capturing the luminous beauty of the waterways and bridges around the city.

He is reaching, trying to find his balance, his painterly center. The day is filled with the clinging air, wet winds, discordant clouds.
East Hampton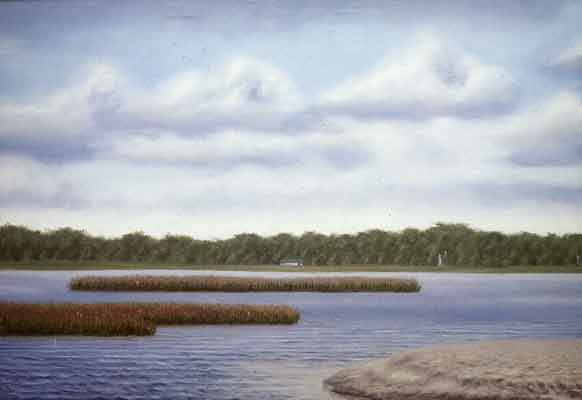 © George A. Rada 2003
Louse Point, East Hampton
Oil on Canvas
18" x 28"
$7,500
---
A lush forest along the wet banks where a moody expanse rises on the opposite shore.
---
Estate of George A. Rada © 2015 All Rights Reserved
---
Continue on Next Page for more of George A. Rada's paintings
---
Please click on the first letter of the artist's last name of the artist you wish to preview
Click on ORDER FORM for Inquiries - PAYMENT OPTIONS for Art Purchase
NYAW.com All artwork is copyright of the respective owner or artist. All other material © 2015 New York Art World®. All Rights Reserved.
Artists - Themes - Back - Next Rada
New York Art World ® - Back to Top
---