Jessica Mieles

About the Urban Landscape:

Manhattan Cityscapes

© Jessica Mieles
---
New York Art World ® - Next Artist - Back - Next Jessica Mieles
---
Capturing City People
Jessica Mieles wants to capture the character, color and the light of her city subjects, cityscapes, and landscapes.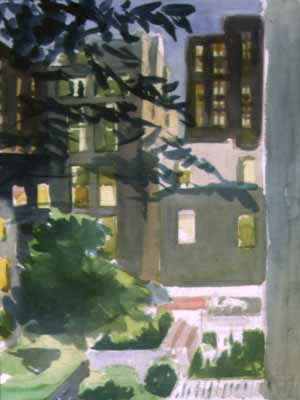 Dusk in Eden © Jessica Mieles 2005
| Watercolor on Paper
14 x 10"
$650
---
Night Falls in Eden

© Jessica Mieles 2005

Watercolor on Paper

24" x 18"

$650

"these are excellent varied works ...

fine figurative works on paper"

From a Review

by Joseph Merkel
---
Jessica Mieles © 2016 All Rights Reserved
---
Continue on Next Page for more of Jessica Mieles' paintings.
---
Click on ORDER FORMfor Inquiries - PAYMENT OPTIONS for Art Purchase
All artwork is copyright of the respective owner or artist. All other material © 2016 New York Art World ®. All Rights Reserved.
Themes - Workshop - Next Artist - Back - Next Jessica Mieles
New York Art World ® - Back To Top
---