New York Art World ® - Artists - Themes -
---
Jessica Mieles

Recent Paintings

An Elemental Spirit - The American City in Abstraction

© Jessica Mieles
---
Cultural Workshop - Next Artist - Back - Next Jessica Mieles
---
"Jessica Mieles' crisp, brilliant painting captures an elemental spirit, embodying in an umbrella -- the power of the wind, rain and thunder."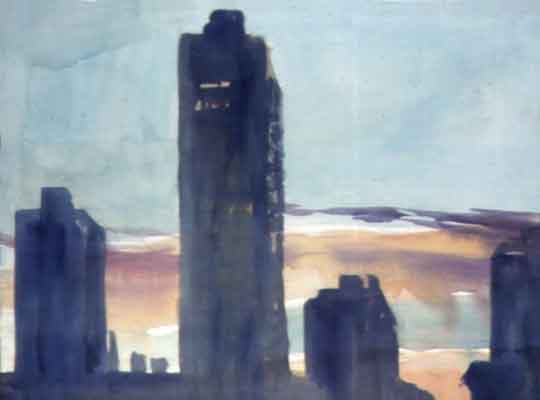 © Jessica Mieles 2001
Last of Daylight - Watercolor on Paper - 18" X 24"
$650
---
© Jessica Mieles 2002

"these are excellent varied works . . . fine figurative works on paper"

From a Review by Joseph Merkel

---

O'Hoboken (Sold)
Watercolor on Paper
---
Continue on Next Page for more of Jessica Mieles' paintings.
Artists - Themes - Back - Next
---
Jessica Mieles © 2013 All Rights Reserved

---
Please click on the first letter of the last name of the artist you wish to preview
Click on ORDER FORM for Inquiries - PAYMENT OPTIONS for Art Purchase
All artwork is copyright of the respective owner or artist. All other material © 2013 New York Art World®. All Rights Reserved.
New York Art World ® - Back To Top
---