Ronald DeNota

The Meat Packing District

Myron Heise Painting in the Meat Packing District

© Ronald DeNota
---
New York Art World ® - Artists - Next Artist - Back - Next Ron DeNota
---
Little West 12th Street

© Ronald De Nota 2003
Riomar Cafe on Little West 12th Street, NYC, 1998
Painting - Oil on Canvas
24" h X 30" w
$1,100

Little West 12th Street - The naming of this street,

which runs from the junction of Gansevoort and Greenwich Streets west to West Street, is a little complicated.

Apparently the city was at a loss about what to call it in its early days in the 1830s and 40s when it was laid out. If you look at it on a map it occupies the same space where West 12th Street would logically be.
---
However, it cannot be called West 12th Street, since West 12th turns southwest at Greenwich Avenue and also reaches West Street. (The original name of that stretch of West 12th was Troy Street, with the renaming taking place in the mid-1800s.
For many years Little West 12th was shown on maps but without a name.
---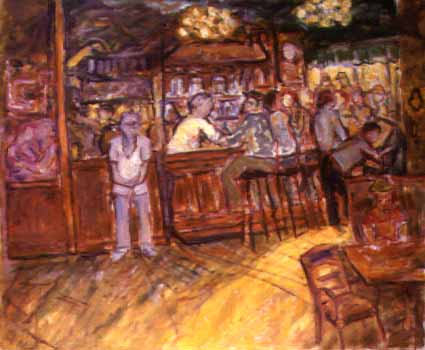 © Ronald De Nota 2003
Bistro Cafe in Greenwich Village, 2000
Mural Painting - Oil on Canvas
5 feet high X 6 feet wide
$5,000
---
With the West 12th Street name already taken, the city at first called this now-orphaned two-block street North 12th (1870) but that didn't really work. Instead of giving it a name it was decided to call it Little West 12th, and it starts appearing on maps by 1902. Two other streets in NYC have such a preface: Little Nassau Street in northern Bedford-Stuyvesant, Brooklyn and Little Clove Road in Sunnyside, Staten Island.
In Greenwich Village, in the meat packing district, the junction of 9th Avenue, Gansevoort and Little West 12th Streets is one of NYC's unique public spaces. Most of the meat packing district's streets, for so long sparsely trafficked, have retained their 1800's Belgian block pavements, and the wide plaza formed by the junction provides "cobblestone" street enthusiasts with plenty of textured pavement.
---
Ronald De Nota © 2015 All Rights Reserved

Continue on Next Page for more of Ronnie De Nota's paintings.
---
Please click on the first letter of the artist's last name of the artist you wish to preview
Click on ORDER FORM for Inquiries - PAYMENT OPTIONS for Art Purchase
All artwork is copyright of the respective owner or artist. All other material © 2015 New York Art World ®. All Rights Reserved.
Next Artist - Back - Next Ron DeNota
New York ArtWorld ® - Back To Top
---